Magic Millions - High Five On Day 3
Five individual lots sold for $1 million or more on Day Three of the 2018 Magic Millions Gold Coast Yearling Sale on Friday.
For the second time in 24 hours it was a colt by Yarraman Park-based sire I Am Invincible on top of the leaderboard.
This time it was Segenhoe Stud's offering of a colt from Electric Dreams purchased by James Harron for $1.9 million.
The colt, who hails from the family of G1 winners Grand Armee, Drum, Dealer Principal and Anamato, is a half brother to the Group winning juvenile Broadband.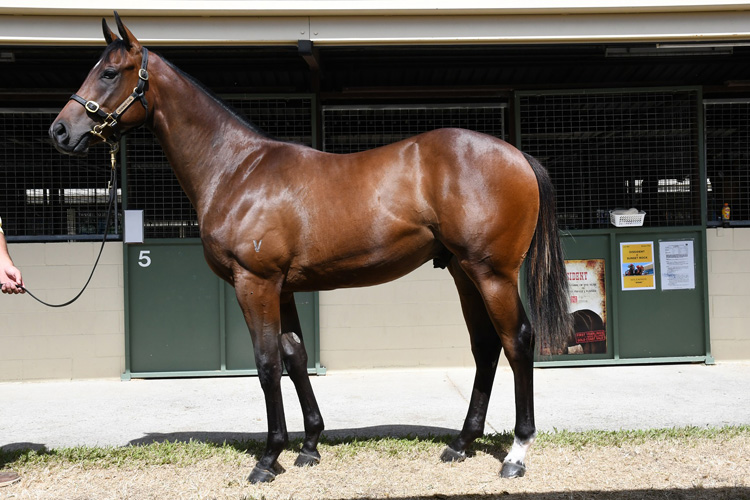 "He's a very special colt," Harron noted. "He's as good an I Am Invincible colt as I've seen.
"He's very precocious and an incredible look."
After buying Thursday's top selling colt by I Am Invincible for $2 million, the partnership of Reg Inglis, Jon Kelly and Paul Frampton stepped in to snare the top priced filly of the auction when they purchased Sweet Idea's sister by Snitzel from Flidais for $1.8 million.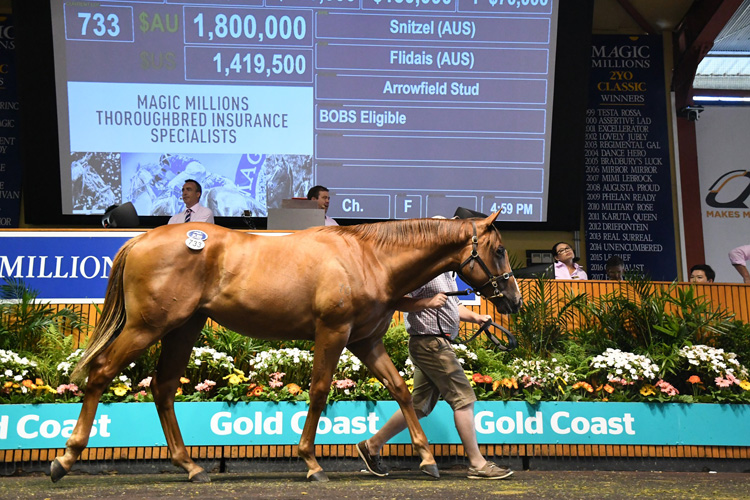 The filly was presented by Arrowfield Stud and is also a full sister to this season's G2 Bill Stutt Stakes winner Showtime and half sister to crack Asian galloper Rush.
"She has terrific residual value as a broodmare," Kelly said. "She is potentially a blue hen - that's as good as you can get."
"I didn't think the price was going to be that high but the prices have gone up and the clearance rate has gone up."
Jadeskye Racing's Damion Flower went to $1.45 million to secure the first foal of G1 Thousand Guineas winner Commanding Jewel, by Commands. Flower purchasing the colt in conjunction with BK Racing and Breeding and trainer Brad Widdup.
The colt by I Am Invincible was offered by Vinery Stud on behalf of breeder Greg Perry.
Commanding Jewel, like her outstanding half-sister Atlantic Jewel, was a graduate of the Gold Coast Yearling Sale – when purchased by Spicer Thoroughbreds before winning at G1 level and ultimately retiring to stud.
James Harron also secured a Pierro colt from Dance Card from Bhima Thoroughbreds for $1.05 million while James Moore stepped in to buy the Redoute's Choice-Cat by the Tale colt for $1 million from Arrowfield Stud.
Almost $47 million was traded on Friday, pushing the overall sale gross to over $137 million - surpassing last year's four day total of $134.3 million.
The clearance rate sits at an outstanding 88 per cent. The sale average is $229,753, well up from last year's comparison of $208,824.
"Five millionaires in one day," Magic Millions Managing Director Vin Cox said. "What a day it's been for Magic Millions."
"It was quite spectacular. The depth of the sale is fantastic as evidenced by the figures.
To view a video review of Day Three click here. To see the results and to make an offer on a passed in lot click here.

SALE STATISTICS
(2017 in brackets)
Lots Catalogued: 756 (720)
Lots Sold: 598 (574)
Lots Passed In: 84 (87)
Lots Withdrawn: 74 (58)
Sale Gross: $137,392,000 ($119,865,000)
Top Price: $2,000,000 ($1,300,000)
Average Price: $229,753 ($208,824)
Median Price: $170,000 ($160,000)
Sold %: 88 (87)

DAY THREE TOP SELLERS
$1,900,000 - I Am Invincible-Electric Dreams colt (Lot 686) Buyer: James Harron B'stock (NSW)
$1,800,000 - Snitzel-Flidais filly (Lot 733) Reg Inglis/Jon Kelly/Paul Frampton (NSW)
$1,450,000 - I Am Invincible-Commanding Jewel colt (Lot 624) Jadesyke/BK Racing & Breeding/Brad Widdup (NSW)
$1,050,000 - Pierro-Dance Card colt (Lot 647) James Harron Bloodstock (NSW)
$1,000,000 - Redoute's Choice-Cat by the Tale colt (Lot 591) James Moore Racing (Macau)
$875,000 - Snitzel-Augusta Proud filly (Lot 521) Emirates Park/B Carlson (NSW)

LEADING BUYERS
(ranked by total spend)
$7,240,000 - James Harron Bloodstock - 10 lots
$6,135,000 - Gai Waterhouse/Adrian Bott/Blue Sky - 26 lots
$5,435,000 - Reg Inglis/Jon Kelly/Paul Frampton - 6 lots
$4,270,000 - China Horse Club/Newgate/Winstar - 10 lots
$4,045,000 - McEvoy Mitchell Racing - 14 lots
$3,795,000 - Orbis Bloodstock - 9 lots
$2,515,000 - Godolphin - 6 lots
$2,210,000 - Mulcaster Bloodstock - 10 lots
$2,185,000 - Lindsay Park Racing - 10 lots
$2,145,000 - Jadeskye Racing/Brad Widdup Racing - 5 lots

LEADING SIRES
(ranked by average - 3 or more sold)
$505,167 - I Am Invincible - 30 sold
$481,429 - Snitzel - 28 sold
$421,923 - Redoute's Choice - 13 sold
$381,000 - Pierro - 10 sold
$358,542 - Fastnet Rock - 24 sold
$316,250 - Savabeel - 8 sold
$290,000 - Exceed and Excel - 13 sold
$280,714 - Zoustar - 21 sold
$278,333 - Medaglia d'Oro - 3 sold
$276,842 - Written Tycoon - 19 sold

LEADING VENDORS
(ranked by average - 3 or more sold)
$451,667 - Bhima Thoroughbreds - 9 sold
$421,111 - Yarraman Park Stud - 18 sold
$416,250 - Eureka Stud - 4 sold
$409,211 - Segenhoe Stud Australia - 19 sold
$348,000 - Vinery Stud - 15 sold