Pre Post Markets
One of the important tools for punting is being able to recognize value in Pre-Post betting and Racing And Sports has supplied you with the relevant information and tools to help you do so.
The majority of Australian Saturday Metropolitan markets are released on Wednesday afternoon and it's in these early hours that you can identify when a horse is over the odds.
For every race we cover both in Australia and globally we provide the Morning Line which is a pre-post market assessed by our astute race analysts and is displayed down the left hand side of the form page.

Also provided in the free form are the Racing And Sports ratings which are displayed in kilograms and are adjusted for allocated weight, and weight for age, making the numbers directly comparable and easy to use. 
Simply go to https://www.racingandsports.com.au/en/form-guide/ then click on the meeting and select the specific race you require.
These ratings displayed on the left hand side of each horse's individual performance can then be plugged into the Worksheet to create a market based on the ratings.
Here is an example: 2013 - Group 1 George Main Stakes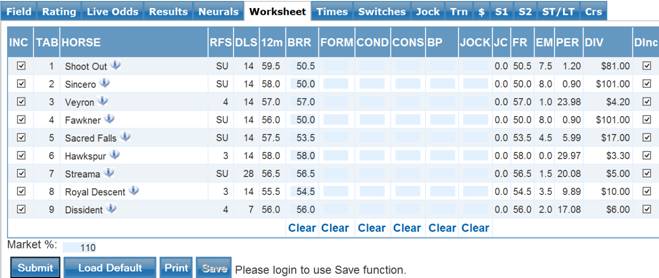 1st - Streama (15-2)
2nd - Royal Descent (4-1)
3rd - Veyron (20-1)
4th - Hawkspur (7-2)
Combining the ratings with the worksheet showed both Streama and Veyron were identified as over the odds, and were clear plays in the feature event.
Click here for Full Form Coverage