Walker thinks out of the box for Darci
Polytrack expert Distinctive Darci will be coming out for a bit of an "experiment" in Friday's $125,000 Kranji Stakes A race over 1400m.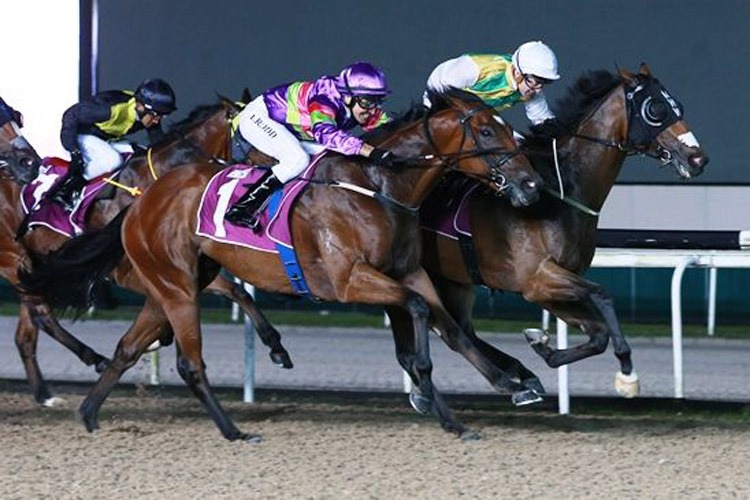 While the switch to turf is a test in itself, the Darci Brahma five-year-old has been there and done that, without much success, but the rise to seven furlongs is uncharted waters.
Distinctive Darci
's nine wins all came on the all-weather. He ran seven times on turf in 25 starts, yielding two seconds early doors while his more recent attempts have been a lot less encouraging.
The shades are also coming off and trainer Mark Walker has entrusted the reins into one of his four apprentice jockeys, Ng Choon Kiat.
These are four major variables being tweaked around in one hit, with the change in course and distance the most significant.
"There is nothing on Polytrack coming up, not for ages," said the New Zealander.
"This will be a bit of an experiment for Distinctive Darci. He's never run over 1400m before.
"I'm also taking the blinkers off and CK Ng will claim three (Distinctive Darci is weighted at 59.5kgs)."
Besides the uncertainty such reshuffling comes with, Walker is also aware that the Dato Terry Lee-trained galloper's form has been slightly on the wane since he landed the Group 2 Merlion Trophy (1200m) in April.
"He raced a little second-up after he bombed the start and flew home for second two runs back," he said.
"There are so many unknown factors this time, but the main thing is his Poly form is far superior, and I really don't know how it will all pan out."
Walker is starting two more runners in the Kranji Stakes A race, Elite Invincible and Viviano. Again, there are a few "if's".
"Elite Invincible missed the Raffles Cup because he had a slight temperature. I'll have to make a new assessment after this race," he said.
"Next up is the QEII Cup, but he may even skip it and go straight to the Gold Cup. I don't see that as a problem as he's a clean-winded horse."
The second Leg of the Singapore Triple Crown series is the Group 1 Queen Elizabeth II Cup (1800m) on October 21 and the third Leg is the Group 1 Dester Singapore Gold Cup (2000m) on November 11. Debt Collector won the first Leg, the Raffles Cup over the mile on September 23.
"Viviano is also running. If it rains, he won't be out of it," said Walker.
Ryan Curatolo is booked on the Keeper seven-year-old while Vlad Duric is sticking with Elite Invincible, an Irish-bred four-year-old by Archarcharch right through the Triple Crown series.
Currently sitting in fourth spot on the Singapore trainer's premiership, nine winners behind leader Lee Freedman (49 winners) with Shane Baertschiger in second spot on 48 winners, Walker has all but given up on his hopes for a successful title defence, even if there are eight weeks to go before the end of the season. He won his first Singapore champion trainer title in 2015.
"It's going to be between Lee and Shane, and Mike Clements (47 winners) is not out of it yet," he said.
"But I don't think I can catch them. They have more new horses while I've been using the same string of horses all year.
"By the time my young horses are ready to race, it'll be too late. Same thing happened when I won my first title in 2015, it was tough to get the same horses going for another season when they had already hit their mark."
The figures corroborate with Walker's theory. He may have had quantity on his side, but it did not necessarily translate into more winners.
On 521 runners, Walker had by far the most runners but with only 40 winners, the strike rate of 7.68% pales in comparison with the leading trio's two-digit strike rates. Clements boasts the highest on 17.03, followed by Freedman (14.71) and Baertschiger (11.54).