War Affair and Storm Troops dead-heat in Saas Fee
With its bumper field of 15 runners, Sunday's Saas Fee Stakes was billed as a nice prelude to the Singapore Guineas, but what a thriller it turned out to be with champion War Affair sharing the spoils with Storm Troops in a pulsating three-way go.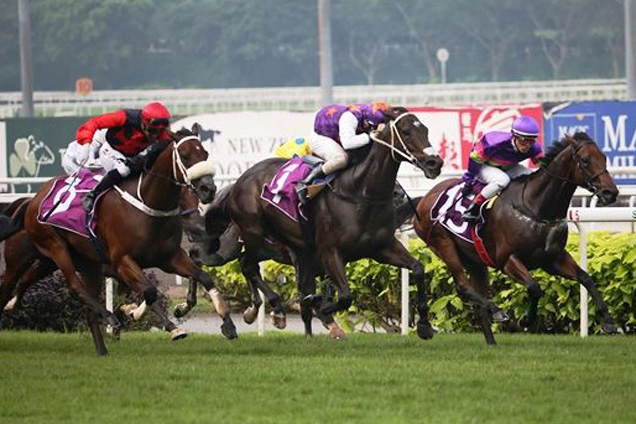 The Bruce Marsh-trained War Affair (Danny Beasley), who was resuming since his third place in the Group 1 Raffles Cup (1800m) in October, came from an untenable position to dead-heat with the Ricardo Le Grange-trained Storm Troops (Nooresh Juglall) with rank-outsider and surprise pop Hip Hip Hooray (Mohd Zaki) third another short head away.
But for most who were on hand at the track, War Affair, the 2014 Singapore Horse of the Year whose career had been plagued by injuries in the last couple of years, had his work cut out after he settled at the tailend while Storm Troops
enjoyed a nice trail just off the speed before looping around to have a clear shot at the winning post in the home straight.
At the 300m, War Affair
had been angled out to the middle but had a wall of horses in front. It was, however, clear that Beasley had a lapful as the O'Reilly six-year-old nudged his way between horses to attack the line with great purpose.
Hip Hip Hooray
was not to be shaken off so easily, though, as with Zaki pulling out all the stops, he kept finding while Storm Troops on the outside was plodding on but still very much in the mix.
In the end, the trio lunged at the post, but it was a safe bet that Hip Hip Hooray on the inside would not cause a massive $765 boilover - which would probably have been the biggest upset in the history of horse racing in a Group race in Singapore - but who between War Affair and Storm Troops would take home the thicker end of the $200,000 prizemoney of the Group 3 race over 1400m would have to be decided in the judge's room.
The stand absolutely erupted when dead-heat was semaphored. The crowd favourite and $16 favourite has hung on for dear life for the fairytale comeback purists just love while Storm Troops ($29), who has always been regarded by Le Grange and his previous trainer Patrick Shaw - who happened to be at the track for the big occasion, looking in the pink of health - as Group material, was equally brave in the way he kept digging deep inside the last furlong.
Marsh, who was actually only saddling War Affair to his second win, with trainers Mark Walker and Alwin Tan having been the first ones who prepared him to his previous 14 wins, including five at Group 1 level under Tan, was speechless at the winner's circle.
"It was a sensational win," said the veteran Kiwi handler.
"I don't know what happened when he was so far back. The way the track rode today, he had to be really good to win first-up.
"But he's a horse with such a great heart. What is even more amazing is this horse has been through so much behind the scenes (latest was a wind op, hence the long layoff) and to see him win like that, it's just sensational."
Le Grange, who took over Shaw at the end of last year after the latter took a sabbatical leave for health reasons, was also delighted Storm Troops has finally earned a well-deserved feature race recognition, more so when it was shared with a champion like War Affair, he said.
"I couldn't be happier. He deserves a Group win and to share it with a horse like War Affair, it is a great honour," said the South African first-year trainer who was at his second 'black type' win after Big Brother captured the Group 3 Fortune Bowl (2000m) in January.
"This race is very special to me as Pat is here to share the moment. A big thank you to Fred Crabbia for giving us so many good horses over the years.
"Nooresh also rode a great race. I'm really very happy with the result."
The two winning jockeys were also both over the moon with their wins, never mind if they had to take turns to pose for the camera at the winner's stall and give their victory speech to the TV crew.
The one that was a little more emotional had to be Beasley's considering how he was a big part of War Affair's Group 1 juggernaut during his three-year-old and early four-year-old seasons.
"I am so proud of him. It doesn't matter if it was a dead-heat, to do what he did after what he's been through, it's pretty amazing," said the Australian hoop.
"Nothing happened at the start; he just wanted to be at the back today, on his own.
"He did hit a wall at the 50 yard. Last time he would let go inside the last 100 yards, but his fitness blew.
"He got a head, a neck in front, and then he just picked himself off the canvas, and just threw himself at the line. It's a very special win."
Juglall, who just returned from a fruitless one-day visit to Hong Kong on Saturday, was pleased he had quickly returned to better fortunes back on home soil.
"To be honest, I didn't see how close it was, as I just kept my head down and pushed my horse to the line," said the Mauritian jockey.
"When I saw it was War Affair on my inside, I thought maybe he just got us on the line.
"But I'm so happy it is a dead-heat. A big thank you to Ricardo and the owner Fred Crabbia, and I'm also happy Pat is here to see the win.
"He's a horse we really have to look after. I'm glad to get a chance to sit on him.
"He was also suited by the softer going today."
War Affair would have hit the $3 million mark had he won alone, but with half the stakes, he is now somewhere around $2.96 million for the Warplan Racing Stable. Storm Troops, a five-year-old Argentinian-bred by Orpen has now brought his record to eight wins and four placings from 15 starts and stakes earnings around the $520,000 mark for Crabbia.
Last year's Emirates Singapore Derby winner and champion four-year-old Well Done (Michael Rodd) was also making his racing comeback and acquitted himself well after being snagged back to the rear to charge home late for eighth, just over three lengths off the two winners.