The Rosehill Wrap: January 27
Race by race recap of key performers and ones to watch moving forward from Saturday's meeting at Rosehill.
Siege Of Quebec
commenced his autumn campaign with the goal of the Randwick Guineas by taking out the Wilkes 3YO Quality (1100m).
Lanciato took out the feature event, the Listed Carrington Stakes (1400m), however it is the placegetters in Prized Icon
and Endless Drama
who are worth following at their next starts.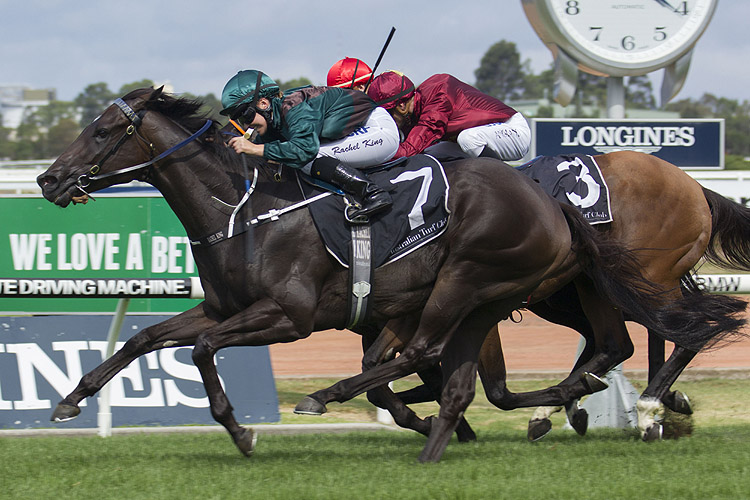 The Pinnacle
began her latest prep well over a distance considered short of her best when contesting Race 6.
The So You Think mare showed good promise as a three-year-old, placing in the Gold Coast Bracelet (1800m).
Race 1: Sizzling Belle - 2YO SW+P Plate (1100m)
Sizzling Belle
settled outside the early lead. She hit the front at the 250m and kept Outrageous at bay.
A mini upset in the opening event @rosehillgardens as Sizzling Belle keeps kicking along the rails to hold off the well backed Outrageous and make it two from two for @nickoliveracing. Another stunning chestnut filly to pair with @Kathy_ohara pic.twitter.com/tpeluaVlai

— Sky Racing (@SkyRacingAU) January 27, 2018
She's beaten a couple of colts in Outrageous
and Osorno
who held their own in a Breeders Plate back in October.
With that in mind, we've awarded her a Timeform
rating of 100.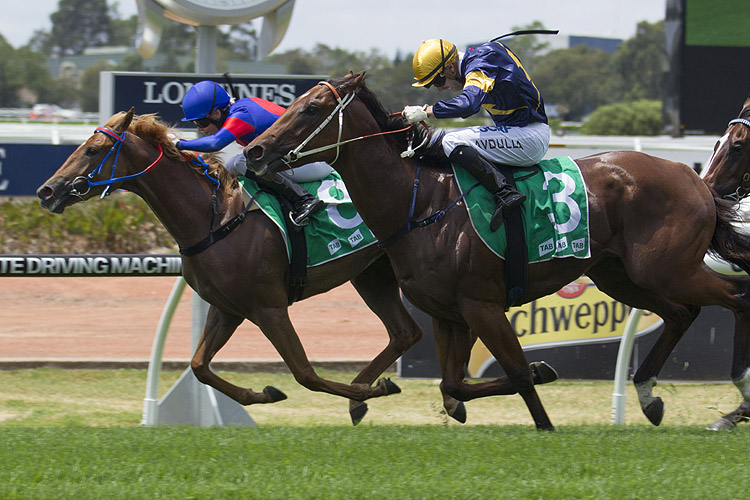 Nick Olive said post race the Black Opal Stakes (1200m) at Canberra on March 11 is her main goal.
A 2YO stepping out on her home track for a $275,000 race while her rivals have to travel, that is a big advantage for the chestnut filly.
Bobbio
and Venom
each produced good debuts, they ran fourth and fifth respectively.
Venom is by So You Think. 1100m always profiled as being too short for her. It's good she's got some race experience now. Trainer Clarry Conners should think about putting her away and aiming up at races like the Sires' and Champagne. Pedigree suggests she'll appreciate more ground.
Race 2: Siege Of Quebec - Wilkes 3YO Quality (1100m)
Brenton Avdulla had to work hard to keep Siege Of Quebec focused. That mission was accomplished and he's run to a Timeform rating of 105.
A few very nervous moments for punters but the good thing of the day salutes with @brentonavdulla lifting the talented Siege Of Quebec to victory in Race 2 @rosehillgardens for @GaiWaterhouse1 & Adrian Bott. pic.twitter.com/Q1R3Q0kKHk

— Sky Racing (@SkyRacingAU) January 27, 2018
The Randwick Guineas is Siege Of Quebec's main goal. He's the second nice colt we've seen in the last two week's who looks well on track for that race.
D'argento first up won at Randwick last week with a Timeform rating of 107p.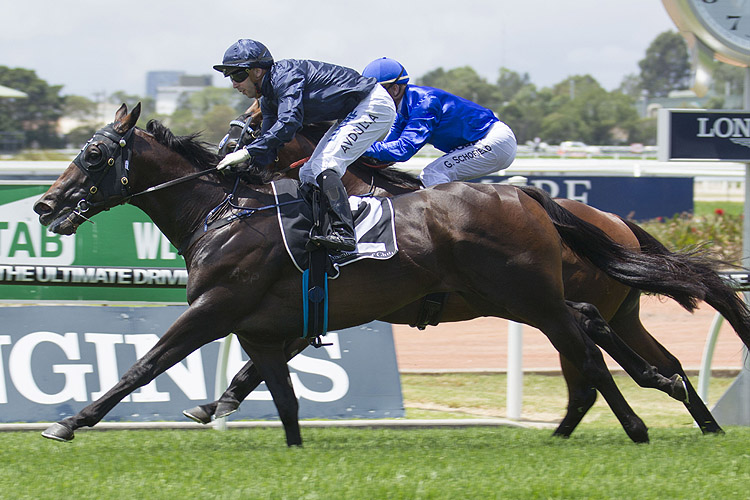 These two are neck and neck at the moment. It will be interesting to see which one improves the most.
The runner up Kennedy
is a nice three-year-old. Each of his five runs this prep have been great.
Kennedy probably won't like this suggestion however Godolphin should consider spelling and gelding then bring him back after the autumn. He can probably work through his grades quite quickly later this season.
Race 3: Show A Star - Benchmark 88 Handicap (1500m)
The money was there to suggest Show A Star
was going to run well. He went straight to the front and was too good. He produced a Timeform rating of 104.
That's a career peak for him.
At just his second start for @BBakerRacing Show A Star shows his class, kicking hard along the rails under @jeanvovermeire to hold off Prometheus and New Universe in Race 3 @rosehillgardens! pic.twitter.com/0CplXgP1B3

— Sky Racing (@SkyRacingAU) January 27, 2018
In two week's time there is an Open Handicap at his new home track over the mile. That looks a perfect race.
Prometheus
was strong in second. There is a Benchmark 85 over the Randwick Mile in three weeks which looks a good race for him.
Race 4: The Lion - Highway Handicap (1100m)
That was something of a surprise. The Lion
really turned some heads though. He flew home with a last 600m of 32.84.
Chris O'Brien on The Lion times his run to perfection and storms over the top of Another Sin to win the @tabcomau Highway Handicap for the in form Michelle Fleming stable from Tamworth! pic.twitter.com/M7u1rw63ux

— Sky Racing (@SkyRacingAU) January 27, 2018
We've given him a Timeform rating of 80. That's miles clear of his previous best.
Like every Highway Handicap winner we see of late, he'll be aimed toward the Country Championships. His qualifying heat is the Hunter and North West Qualifier on March 18 at Scone.
Another Sin
was good. With form behind Kennedy
who had just franked it behind Siege Of Quebec, most were disappointed he couldn't win this which represented a sharp class drop.
El Mo
caught the eye in third. He was finding the line nicely. That was just his third career start.
Race 5: Bratislava - Benchmark 80 Handicap (1300m)
Everyone is entitled to a bad day. Bratislava
had his at Randwick two weeks ago. He bounced back nicely here.
An absolute thriller in Race 5 @rosehillgardens with a wall of horse across the track but it's the @godolphin galloper Bratislava who gets his nooe down right on the line to win Race 5 for @TyeAngland & @JamesCummings88 pic.twitter.com/SPgRKwF91S

— Sky Racing (@SkyRacingAU) January 27, 2018
The Medaglia D'Oro gelding ran to a Timeform rating of 95.
It's an honest figure and reflects what Bratislava is, an honest bread and butter sprinter.
Merovee
was fair in fifth. Putting the market expectations aside, that was a sound run and he'll appreciate more ground.
He placed in a Spring Stakes last September. A mile and beyond is where he'll be at his best.
Race 6: O'Rachael - Fillies and Mares Benchmark 80 Handicap (1350m)
She's come back in good order this prep. We saw that from the get go when she ran second on resuming.
The heavily backed O'Rachael gets a lovely run up on the speed and hangs tough in front of the fast finishing @SnowdenRacing1 pair of The Pinnacle and Moss Trip. A running double for @TyeAngland! pic.twitter.com/OiQDGv1T9E

— Sky Racing (@SkyRacingAU) January 27, 2018
Saturday she ran to a Timeform rating of 98, her first Australian win.
Her master Timeform rating is 102, she ran that as a two-year-old when she placed in the Diamond Stakes at Ellerslie.
There are a few worth keeping an eye on. The Pinnacle
was excellent in second. She could be in store for a good prep over further.
Moss Trip
, Witches
and No Interest
were all good to the line as well.
Race 7: Lanciato - Carrington Stakes (1400m)
Lanciato
was given an excellent ride from Rachel King. The pair saved ground and weaved a passage in the straight. He's produced a Timeform rating of 105 to claim his first stakes win.
Lanciato finally gets clear air and storms over the top to win the Listed Carrington Stakes @rosehillgardens for @RachelK11 & @MarkMrn
A brilliant step up to Stakes grade for Lanciato! pic.twitter.com/f1Rt6gvysO

— Sky Racing (@SkyRacingAU) January 27, 2018
Mark Newnham is going to nominate Lanciato for the Doncaster. The Per Incanto gelding obviously has to improve some more but he's very much a horse in form racing with plenty of confidence.
Horses like Prized Icon
in second and Endless Drama
in third, they were giving Lanciato both weight and fitness.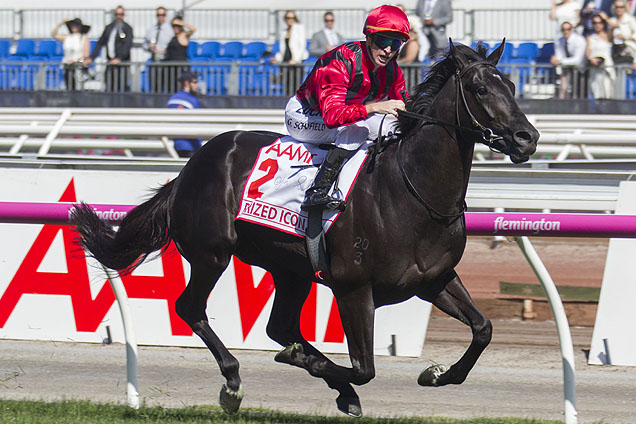 They each look in store for good autumns off those runs.
Prized Icon under 60kg ran to a Timeform rating of 118. That's up near a career peak for him, only overshadowed by the 120 he returned when winning the 2016 Victoria Derby (2500m).
Race 8: Emperor's Way - Benchmark 82 Handicap (1800m)
Another strong performance by Emperor's Way. It's netted him a Timeform rating of 94p.
Empreror's Way makes it three wins from his last four, eating up the ground out wide to nail Get On The Grange right on the line and win Race 8 @rosehillgardens for @SnowdenRacing1 & @TripleCrownSynd! pic.twitter.com/OHiPOuRghZ

— Sky Racing (@SkyRacingAU) January 27, 2018
He's a young stayer who can keep progressing through the grades on his current form.
There is a Benchmark 85 over 2000m at Randwick in three weeks he can go to next.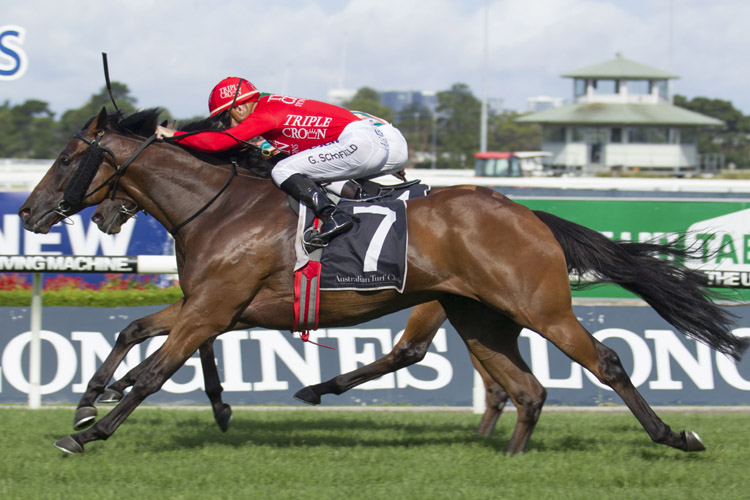 Get On The Grange
is having a fantastic prep for Allan Kehoe. He's improved with each run. He might go to that same 2000m race at Randwick.
Race 9: Difficult To Get - Benchmark 80 Handicap (1100m)
Difficult To Get
is a mare in form and was rewarded for it. She's produced a figure of 93 on Saturday.
Difficult To Get dominates the last race of the day @rosehillgardens with a soft victory after a lovely Andrew Adkins ride! pic.twitter.com/9UQNgSNbwT

— Sky Racing (@SkyRacingAU) January 27, 2018
There is an 1100m Benchmark 80 for her at Canterbury on February 16 which will suit.
Trainers of horses winning Benchmark 80's need to start looking a bit harder for races now.
With Group racing returning to Sydney commencing this Saturday, those Benchmark races on a Saturday start getting replaced by stakes races.
Autumn is just around the corner!
R7 ROSEHILL

27 January 2018

Carrington Stakes 3U , 1400m