Timeform Recap - 2018 Newmarket Handicap
Timeform recap of the 2018 Newmarket Handicap won by Redkirk Warrior for jockey Regan Bayliss and Lindsay Park Racing.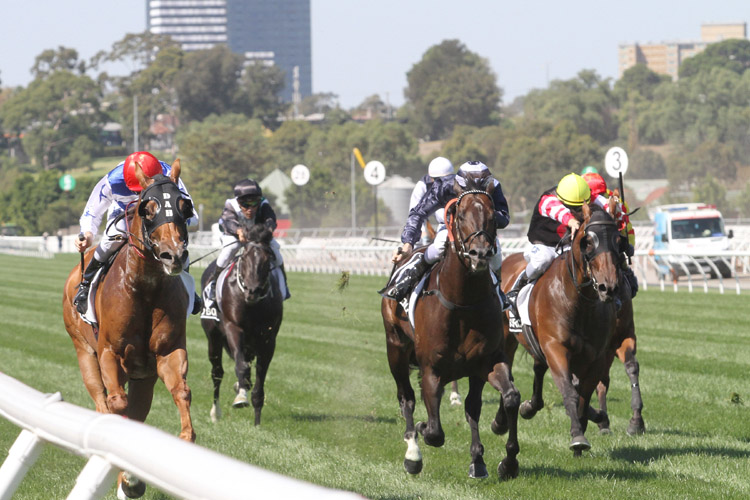 Redkirk Warrior
became the first horse since Razor Sharp in 1982/83 to win the Newmarket Handicap back-to-back and booked himself a ticket to Royal Ascot in the process.
We looked at Redkirk Warrior and the task that he may face in the UK in our recap of the Lightning, which you can read here.
Going on from that, Redkirk Warrior delivered on the 'p' attached to his Lightning-winning rating and is now rated 127. No more 'p' but plenty more punch for the Royal Meeting which remains a big challenge but at 127 he can now attend with his chest puffed out, expecting to be one of the major players in the King's Stand, The Diamond Jubilee, or both.
Brave Smash
edged his rating forward in second, going from 122 to 124, and there may be more to come from him yet, but it's the third-placed Merchant Navy
who walked away from Flemington looking better than the bare result.
Ignoring the subjective (but admittedly rather apparent and generally accepted) track bias on the day, Merchant Navy might consider himself an unlucky loser judged purely on sectional times.
Redkirk Warrior led all the way on the stand side running 1:08.33 in two halves of 35.17 and 33.16. In other words he ran the 1200m with a finishing speed of 103.1%. Finishing speed, described as a percentage of overall race speed in this way, is a great intuitive way of displaying sectional times.
That's a fairly typical finishing speed over the Flemington 1200m but typical isn't necessarily optimal. In theory, the fastest way home is to go a bit quicker early and a bit slower late.
The far side got to halfway ~2.6 lengths slower than the stand side leaving the principal players over there, Brave Smash and Merchant Navy, with plenty of work to do. Finishing speeds of 105.5% and 106.6% respectively show them finishing fast - too fast.
The consequences for straying from efficient speed are exponentially damaging. A finishing speed of 105.5% for Brave Smash points to him being disadvantaged by roughly three quarters of a length but 106.6% for Merchant Navy is closer to two lengths.
On another, more efficient, day Merchant Navy's 118p in third could have seen him a 125-rated Newmarket winner.
Two lengths, or 6.96lbs. On another, more efficient, day Merchant Navy's 118p in third could have seen him a 125-rated Newmarket winner.
From there it would have been Merchant Navy that was bound for the Royal Meeting - and perhaps he still should be.
He would be the fifth three-year-old to head to Ascot via the Newmarket in the last 10 years following (in order of success):
Starspangledbanner (rated 126) ran third at Flemington before winning the then Golden Jubilee.
Brazen Beau (126) won at Flemington before running a narrow second in the Jubilee.
Star Witness (124) below best at Flemington before finishing second in the King's Stand and third in the Golden Jubilee.
Shamexpress (118) won at Flemington and ran ninth in the King's Stand.
With a current rating of 120p from his Coolmore win in the spring (Brazen Beau and Star Witness were also Coolmore winners) Merchant Navy sits below what appears as the level required to be genuinely competitive at Royal Ascot. But if our projected rating of ~125 is correct he's getting up into the sweet spot.
As we mentioned in our Lightning Recap, this is shaping as no ordinary year for the big sprints at the Royal Meeting, with a megastar in Baattash frighteningly fast, but he has his quirks and even a placing would be a valuable for a colt like Merchant Navy.
What we can say is that Redkirk Warrior looks like being very competitive and Merchant Navy could go there feeling every bit as likely as him.
The other Group 1 on the Flemington card on Saturday was the Australian Cup won by Harlem, again for Lindsay Park.
Harlem is now rated 121, up from the 116 he returned when winning a fast Naturalism Stakes back in the spring time.
He's hardly a vintage Australian Cup winner, as his big SP might suggest, but the rating looks no fluke and he should go on being competitive at the level. Fellow former Frenchman Gailo Chop ran to 120 in second, regressing from the 124 he ran when winning the Peter Young Stakes.